Live Oak Consultants (LOC) continues their exceptional record of success, securing federal grant funds for our Client's under the U.S. Department of Homeland Security / FEMA – Port Security Grant Program (PSGP).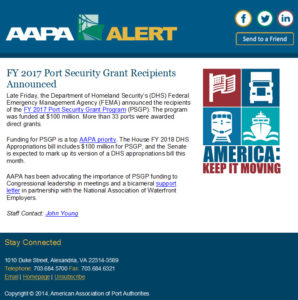 The Port of Portland received the 17th largest port security grant award out of 204 Port Area/Grant Recipients from thousands of grant applications for the FY2018 Port Security Grant Program.  "I would consider that grant award significant considering the organizations in positions 1-16" – Jeff Brown, Director of Security for Live Oak Consultants.  "We are certainly proud of our reputation as a port/maritime security center of expertise, however we are most honored by the positive feedback we have received from our Clients and the trust that they put in us, evidenced by their repeat business and long-term relationships."
LOC worked closely with the Port of Portland to understand existing security conditions as well as the goals and objectives of the Port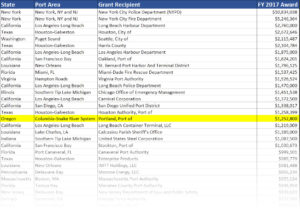 with regard to security improvements.  LOC then went to work using years of successful grant writing experience and knowledge to prepare all of the necessary documentation required for the Port to submit to the U.S. Department of Homeland Security / FEMA.  "There is a considerable amount of technique to federal grant writing that must be honed over years and must incorporate all of those lesson learned to be successful" – Jeff Brown.
"We greatly appreciate this support from FEMA, allowing us to upgrade our marine security systems to protect these vital business assets for our community," said Vince Granato, Port Chief Operating Officer.
News Articles:
http://www.americanshipper.com/main/news/69102.aspx
https://www.ajot.com/news/port-of-portland-receives-1.25-million-federal-seaport-security-grant
https://www.maritimeprofessional.com/news/portland-receives-port-security-grant-309572
http://katu.com/news/local/port-of-portland-will-update-security-at-marine-terminals-with-125-million-grant
About the U.S. Department of Homeland Security – Port Security Grant Program:
The Port Security Grant Program (PSGP) plays an important role in the implementation of the National Preparedness System by supporting the building, sustainment, and delivery of core capabilities essential to achieving the National Preparedness Goal of a secure and resilient Nation. Building core capabilities requires the combined effort of the whole community, rather than the exclusive effort of any single organization or level of government. The PSGP's allowable costs support efforts to build and sustain core capabilities across Prevention, Protection, Mitigation, Response, and Recovery mission areas, with specific focus on addressing the security needs of our Nation's maritime ports. Among the five basic homeland security missions noted in the DHS Quadrennial Homeland Security Review, the PSGP supports the goal to Strengthen National Preparedness and Resilience.
Live Oak Consultants can provide the experience and expertise necessary to assist with the federal grant process:
Investment Justifications (IJ)
Detailed IJ Budgets
Environmental and Historical Preservation (EHP) forms and compliance
Management of grant awards, spending, and schedules
Design, Construction and Commissioning of construction in compliance with federal contracting requirements
Quarterly and semi-annual reporting
Final grant reporting and audits
Contact LOC:
Please contact us with any security related questions or needs.  LOC provides comprehensive security consulting and design services, utilizing proven methodologies to identify threats, evaluate risks and mitigate these risks through sound security principles.  Our security consulting and design services focus on your needs and the many threats to your business, bringing integrated solutions that help you prepare and respond.
www.LiveOakConsultants.com │ (843) 529-9428 │ info@LiveOakConsultants.com